With summer around the corner, keep your meals light while keeping all the flavor with the Clean Greek Yogurt Coleslaw recipe. Try coleslaw without the heavy, fattening mayo and sub with yogurt instead. Go with Greek yogurt to maximize your protein macros and opt for the organic version. Healthy probiotic strains are an added plus for a happy stomach. Mayonnaise even the organic variety contains soy and I avoid using soy in my meals.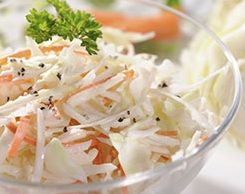 The coolness of this recipe is perfect for a summer picnic with your family and pairs amazingly well with some good Texas BBQ or anything entrée that has a bit of heat and spice. The crunch of the cabbage is delightful and the flavor is perfect balance of tang and creaminess with the combination of the vinegar and yogurts. See if it fits the bill for your family. If you tried any variations, please add in comments below so we can all give it a go!
Clean Greek Yogurt Coleslaw
Instructions
Add all ingredients into a bowl and combine the Greek yogurt, vinegar, honey, salt and black pepper vitality essential oil or ground pepper.

Put the coleslaw blend or shredded cabbage in a large bowl, pour the dressing mixture on top.

Cover and refrigerate for at least 30 minutes.
Recipe Notes
Adapted from: www.youngliving.com.